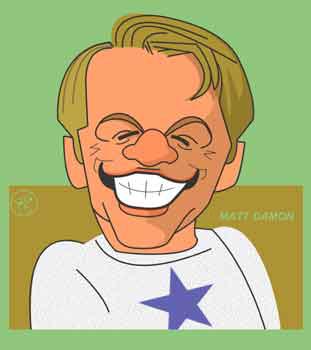 It seems that Matt Damon has bagged the Lance Armstrong film. The reasons for the departure seem hard to believe. As it says in the article, Matt and Lance disagreeed on the casting of the lead women. Since when does Lance Armstong consider himself an expert in the casting of a Hollywood film? I think that the reasons are just read-hearings. I wouldn't doubt if it were something as simple as Damon getting offered more dollars on something else. But who really knows? I mean what could be the problem with Michelle Pfeiffer as Lance's mom? You couldn't ask for a better actress and she's the perfect age. I actually ran into her at Pete's Coffee a few months ago in Palo Alto (she lives nearby). Lance loves Pete's coffee. I heard that he is essentially a Pete's addict. I bet if he had known, he would have gone with her as choice for mommy.
Who would be a good Lance on the big screen? I would cast an unknown who happens to also be a kick-ass bike rider. I am sure there are some actors out there like that. Why not? You could surround him with stars like Pfeiffer and actually have a lead character that looks like he is a bike racer.
www.cyclingnews.com news and analysis
: "Armstrong film searching for new star
By Cheyenne Spokes
The heavily-rumoured casting of Hollywood heart-throb Matt Damon as Lance Armstrong in the forthcoming biopic about the seven time Tour de France winner has come to nothing after the 35 year old decided to dramatically quit the project in favour of another screen role.
Damon, star of hit movies such as Ocean's Eleven, the Bourne Identity and Saving Private Ryan, was long considered the prime choice of Armstrong.
Indeed Armstrong's dramatic recovery from a near-fatal illness seemed both the ideal Hollywood plot and a perfect vehicle for Damon's talents. Although the two look nothing alike, the movie star was reportedly in heavy training for the role, going on long bike rides with Armstrong in a bid to lose weight, gain fitness and build the technical skill to convincingly portray the multiple Tour champ on screen.
'Man, I'm even shaving my legs,' Damon reportedly said in an as-yet unpublished interview with celebrity reporter April Fibbs.
Details are still sketchy about what happened to his involvement with the project, but according to the unrivalled journal of record, National Enquirer, Damon and Armstrong failed to see eye to eye in a number of areas. These rumours include reports that:
* Damon INSISTED that Michelle Pfeiffer play Armstrong's mother.
* He DEMANDED that Jessica Alba play Armstrong's former wife Kristin, and
* He EXPRESSED A STRONG preference for the casting of Vanessa Paradis as Sheryl Crow, despite the fact that the singer is not actually French."