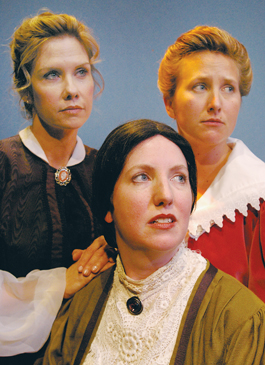 The Pear Avenue Theatre in Mountain View has developed quite a reputation for producing excellent classical theatre. The current production of Chekov's "Three Sisters" is no exception.
Keith Kreitman of the San Mateo County Times says,
"....As a result, director Jeanie Forte was able to gather together one of the best casts in memory."


And Kevin Kirby from the Palo Alto Weekly says,


"
...Whether this is true or not -- whether the finished product is the result of canny casting choices or weeks of grueling work (or both) -- Forte deserves credit for putting together an accessible and quite moving production of this dramatic masterpiece."

I checked with the theatre and apparently there are seats left for the last weekend of performances but they are going fast. There are still seats available for Friday night, September 28th and the Sunday matinee on September 30th. Thursday and Saturday are sold out.

For tickets go to The Pear's web site or call: 650-254-1148



***Photo by Shannon Stowe***